Multifunctional Stainless Steel Basin Grater - Salad Cutter Bowl-4 in 1 Julienne Slicer, Multifunctional Stainless Steel Colander Drain Basket for Cooking, Prepping, Food Storage

Saving Time Preparing Meals and Kitchen Space!
Made entirely of high-grade stainless steel
Features:
★GOOD HELPER: The food container and the drain basket to instantly slice and wash immediately, saving you more time.
★DIFFERENT PURPOSE USE: The kitchenware set of 3 will be an everyday tool that will help you serve up delightful treats. 3 different sizes for different purposes.
★VERSATILE JULIENNE SLICER: Easily to slice the firm vegetables and fruits. It is also a Grater, Mandoline, Vegetable Chopper and Cutter. Simply helping you make professional-looking garnishes, like apple chips, onion rings, potato nests, elegant salads, vegetable pizza toppings, and more. Save you valuable time and money. Perfect for making low carb and healthy veggie noodles&Pasta.
★HIGH QUALITY FOOD-GRADE MATERIAL: Crafted from food-grade material, Please rest assured use. Dishwasher safe, very easy to hand clean.
★KITCHEN ESSENTIALS: Surface brushing process, ideal for straining, juice, tea, pastas, jams, sifting flour, sugar, soup more. Wash in warm soapy water is good.

Specifications:
Product Type: Kitchen supplies
Material: stainless steel
Size: 26cm/10.2in (Diameter)
Package: 1 set of Multifunctional Stainless Steel Basin

Package includes:
★ Grater*1 + drain tray*1 + stainless steel basin*1
🎯
Specific design and size
to meet your needs!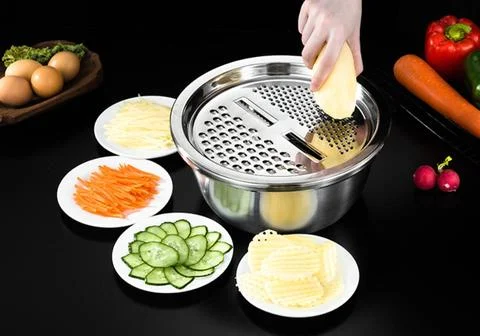 Sizes:12 INCHES