Eco-Friendly Multi-Functional Foldable Cutting Board, Washing Bowl & Draining Fruit Basket

Preparing meals has never been so convenient like this!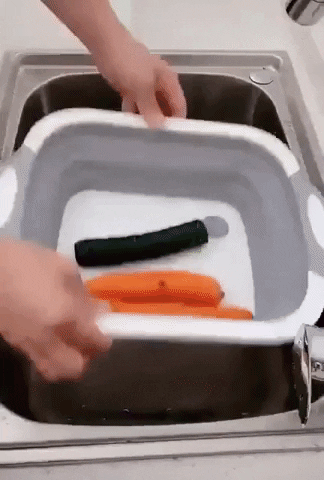 This Multifunction Board is a chopping board with dish tub. You can cut and wash the food in one step. It is foldable and adjustable. It can help you really much to save your kitchen space
MULTI-FUNCTIONAL
✅ Cutting Board
✅ Washing Bowl
✅ Draining Fruit Basket
🌟Foldable & Space Saving
🌟Light Weight
🌟Premium Material
FEATURES & BENEFIT
【Portable】: Double carry handles means easy and comfortable to carry from the sink to the counter.
【Collapsible】: Designed for a 3in1 convenient cutting board, space saving, easy storage, and easy travel.
【Multi-function & Versatile】: Wash, strain, and chop all your veggies and fruits all in one. Great for storing all your prep work. Store a big salad or fruit basket for your next big gathering.
【Evacuation】: Its one-click evacuation system will allow you to evacuate the water used for cleaning your food in a few seconds by filtering the larger pieces.
【Durable over time】: Designed with very resistant materials and safe for food contact, it can last up to 10 years in good condition.
【Easy to clean】: A sponge stroke will suffice to clean this Multifunction Board. In addition, the material used in manufacturing does not retain odors.
【Material】: PP/POLYPROPYLENE High Grade and Eco-Friendly Plastic - 100% Safe for Cooking Applications.
【Details】: The Multi-Board is 15.75 inch wide and 11.8 inch high. It is deep 5.2 inch when unfolded. Dry Weight: 630gram/1.38 pound
Not only is the 3in1 Portable Folding Cutting Board great for the Kitchen, but it's also great for:
Camping - Hiking - Picnic
BBQ - R.V.
Beach Trip - Fishing Trip - Hunting Trip
Hotel Stay - Road Trip
And Much More!!!
100% Satisfaction Guaranteed With Every Order.